A series of policies relating to foreigners came into effect in Vietnam last year.
A series of foreign-related policies came into effect last year, including those on the management of working foreign workers, immigration, transit and residency fees and charges, registration of permanent residence, Vietnamese language proficiency assessment for foreigners, Vietnamese entry procedures applicable to foreigners, overseas Vietnamese and their relatives.
Management of foreign workers in Vietnam
Decree 152/2020/ND-CP on foreign workers in Vietnam and the recruitment and management of Vietnamese workers working for foreign organizations and individuals in Vietnam, dated December 30, 2020, entered into force on February 15, 2021.
Specifically, a foreign employee who owns or contributes to the capital of a limited liability company whose capital contribution value is VND 3 billion or more; the foreigner who enters Vietnam to work as a specialist, manager, manager or technical employee for less than 30 days per entry and no more than three times a year is exempt from work permit.
Foreigners are exempt from work permits, including volunteers; relatives of members of foreign representation missions in Vietnam, foreign employees entering Vietnam certified by the Ministry of Education and Training to teach and do research.
The period of validity of a granted work permit shall not exceed two years. In case of regranting, the period of validity of a reassigned work permit shall be equal to the period of validity of the granted work permit minus the period of work of the foreign employee counted by the time of the request for regranting of the work permit. . The permit is extended once for a maximum of two years.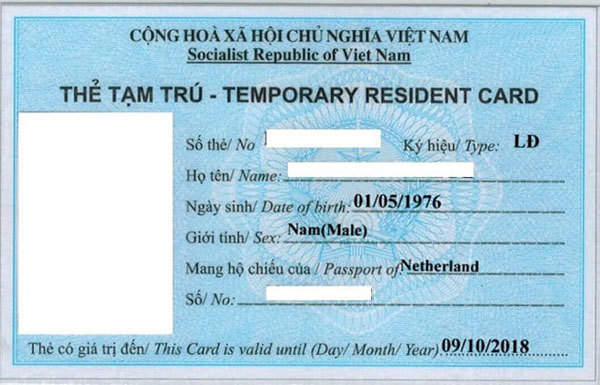 A temporary resident card.
Declaration of temporary residence
Circular 55/2021/TT-BCA, dated May 15, 2021, effective July 1, 2021, stipulated that foreigners who have obtained Vietnamese citizenship must have a decision granting Vietnamese citizenship from the President of Vietnam when applying for citizenship. registration of permanent residence for the first time.
Foreigners who have a temporary residence permit can buy apartments. They can stay in Vietnam for a while while their temporary residence card is still valid without having to leave the country. Foreigners save money as they don't have to apply for visa extension multiple times and save travel expenses. In addition, they can carry out commercial procedures, get married, very easily.
Debt rescheduling for customers affected by Covid-19
Circular No. 14/2021/TT-NHNN of September 7, 2021 of the State Bank of Vietnam amending and supplementing a number of articles of the Circular of the Governor of the State Bank No. 01/2020/TT- NHNN of March 13, 2020, on credit institutions and branches of foreign banks carrying out debt reschedulings, waiving or reducing loan interest and charges and maintaining classified credit groups in order to help their customers affected by the pandemic COVID-19.
Thus, credit institutions and branches of foreign banks reschedule the debit of the balance of the principal of the loan and/or interest on the debt that fully meets the following conditions: Originating before August 1, 2021, from credit and leasing; giving rise to principal and/or interest repayment obligations from January 23, 2020 to June 30, 2022.
This circular takes effect on September 7, 2021.
Fees and charges for immigration transit and stay in Vietnam
Circular No. 25/2021/TT-BTC of April 7, 2021 of the Ministry of Finance prescribing the rates of charges and fees related to exit, entry, transit and stay in Vietnam and entered into force on May 22, 2021 .
Circular 25 stipulates a number of subjects entitled to waiver of fees and charges, including: party, state, government guests; Officers and staff members of foreign diplomatic missions and consulates and representative offices of international organizations based in Vietnam and their family members; Foreigners who enter Vietnam to provide relief or humanitarian aid.
The fee for issuing passports (including e-passports with a chip and passports without a chip) is 200,000 VND/time for the first issuance, 400,000 VND/time for reissuing damaged or lost passports, and of VND 100,000/hour in case of granting written certifications of personnel details. The fee for granting exit permits is 200,000 VND/hour, the fee for issuing diplomatic notes on the visa application is 10,000 VND/hour; the fee for the first allocation of APEC Business Travel Cards (ABTC) is 1.2 million VND/time, in case of re-issuance, this fee is 1 million VND/time; the cost of granting AB stamps is 50,000 VND/hour.
Rules on Vietnamese language proficiency tests for foreigners
Circular 27/2021/TT-BGDT of the Ministry of Education and Training on the organization of Vietnamese language proficiency tests for foreigners entered into force on November 22, 2021.
Under the circular, Vietnamese language proficiency certificates are granted to foreigners who have passed a test within the six-level Vietnamese language proficiency framework.
The certificate form is provided by the Department of Education and Training.
End of automatic visa extension for stranded foreigners
The automatic extension of visas for foreign nationals stranded in Vietnam due to Covid-19 ended on January 15, 2022 as Vietnam began to gradually resume regular commercial flights.
Foreigners who entered Vietnam with a visa exemption certificate, e-visa or tourist visa have their stay automatically extended since March 1, 2020, as they were unable to leave the country after its borders were closed. .
In recent days, foreign embassies in Vietnam have also urged their citizens to review their visa status and leave Vietnam if necessary to avoid overstaying.
New Policies to Ease Entry Procedures for Foreigners, Overseas Vietnamese and Their Family Members
In accordance with the guidelines set forth by Permanent Prime Minister Pham Binh Minh in document no. 450/VPCP-QHQT dated January 18, 2022, the Immigration Department announced new policies to facilitate entry procedures for foreigners, overseas Vietnamese and their family members as follows:
– Foreigners and overseas Vietnamese who hold permanent or temporary residence cards, visas and visa exemption certificates can enter Vietnam in accordance with the Entry Law , exit, transit and residence of foreigners in Vietnam without having to obtain prior authorization. with relevant ministries, sectors and local authorities or in the process of pre-clearance with the Department of Immigration.
– Foreigners who wish to enter Vietnam for market research, business, investment, work, conference, study, family visit but who do not have any of the above documents must obtain approval from the committees popular provincial or ministries, sectors and central authorities before undergoing sponsorship, inviting visa procedures to the Immigration Service.
– All participants must comply with the Covid-19 prevention regulations applicable by the Ministry of Health.
– Those wishing to enter Vietnam for tourism purposes can do so by joining tour groups under the Ministry of Culture, Sports and Tourism's Inbound Tourism Pilot Program.
Source: VGP

Immigration Department issues relaxed entry protocols for foreign nationals and overseas Vietnamese
Vietnam's Immigration Department has announced new policies aimed at easing entry procedures for foreigners and overseas Vietnamese and their family members with valid visas or visa waivers.

Guidelines issued for foreigners entering Vietnam for short-term work
The Ho Chi Minh City Ministry of Health yesterday sent a document to departments and agencies on the implementation of epidemic prevention medical instructions for foreigners entering Vietnam to work for a short period.